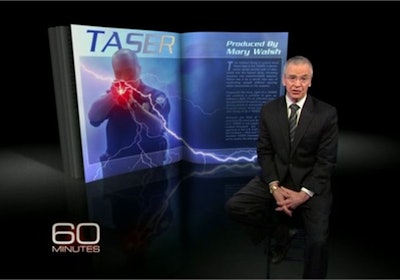 CBS' "60 Minutes" news magazine on Sunday included a segment exploring the use of TASER devices by law enforcement officers that suggested officers overuse the less-lethal devices.
In the segment, "TASER: An officer's weapon of choice," the news magazine credits the TASER for saving lives and preventing injury, and cites a National Institute for Justice study released in June that claims some police officers reach for the weapon too quickly.
The NIJ included analysis of TASER deployments in, "Less-Lethal Technology: Conducted Energy Devices."
The segment concentrated on police using TASERs too much, as a substitute for other ways of controlling suspects. Baltimore Police Commissioner Frederick Bealefeld III, who was interviewed for the segment, said he's wary of the devices. Less than 500 of his 2,800 sworn officers have been issued one, he said.
Two Baltimore police officers interviewed by the show said the loved Tasers and Bealefeld himself said his own troops are clamoring for them.
Also interviewed were Rick and Tom Smith, the founders of TASER International, who discussed the history of the device and provided counter arguments.