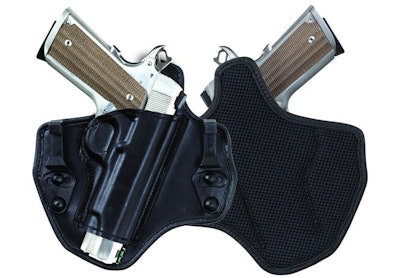 Safariland has introduced the Bianchi Allusion series of concealment holsters that combine leather and synthetic materials, according to the company.
The Bianchi Allusion series includes the Model 125 Consent, Model 130 Classified, and the Model 135 Suppression holsters. The holsters are formed with full-grain leather that's wrapped and laminated around a thermal-molded synthetic core. Each holster also houses a triggerguard detent for enhanced weapon retention.
The Bianchi Model 125 Consent is an open-top holster with multi-carry capabilities. Dual-snap belt loops offer a high-ride hip carry, and an extra set of belt loops allows the holster to be worn inside the waistband for more discreet carry. The triggerguard detent design helps to ensure secure carry during normal activity.
The Model 130 Classified features thumb-break retention for additional security. To maintain optimal flexibility in the thumb break, the strap is suede-lined, while the synthetic liner encompasses the rest of the holster.
The 135 Suppression is an inside-the-waistband holster. The holster sits low enough that the thickest part of the weapon lies directly underneath the belt, helping to obscure its shape. Meanwhile, two shirt-tuckable C clips grasp the belt and give the appearance of an empty belt. The gun cant is optimized to put the grip into the kidney area of the back to minimize any visible printing. Comfort is enhanced with a body-facing holster liner composed of soft foam covered with an anti-microbial mesh coating to reduce bacteria growth and odor.
The Allusion holsters fit 1.5-inch belt widths. They are available in full-grain leather, plain finish, tan or black. The Allusion Model 125 Consent retails for $64; the Allusion Model 130 Classified retails for $68; and the Allusion Model 135 Suppression retails for $74.