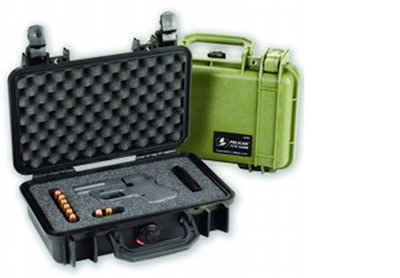 Heizer Defense will unveil a new line of accessories for its DoubleTap Tactical Pocket Pistol at the National Rifle Association Meetings and Exhibits in Saint Louis from April 13–15.
The new accessory line includes the DoubleTap Barrel Conversion Kits. Each kit contains one DoubleTap barrel along with a two-round Heizer Loading Device and a six-round Heizer Storage Device. The conversion kits are available in 9mm or .45 ACP, ported or non-ported. Retail is $249 for the non-ported and $319 for the ported kits.
The Heizer Loading Device and Cartridge Holder for .45 ACP or 9mm. The set includes one two-round loading device for quick tactical reloads and one six-round storage device for carrying six-spare rounds. Retail is $10.
For travelling and range use, Heizer is offering a Pelican Case, Model 1170, with custom cutout foam interior to hold one DoubleTap, one spare barrel, one Heizer Loading Device and one Heizer Storage Device. This Pelican case is waterproof, lockable and comes with a lifetime guaranty. The case is airline approved in checked luggage. Available in black or OD for $70.
Heizer will also offer DeSantis leather holsters made for the DoubleTap. The Heizer Ankle Holster is modeled after the DeSantis "Die Hard" design, available in right- or left-hand versions in quality black leather with a thumb break. Retail is $77.
Another exclusive offering by DeSantis for Heizer is the belt holster specifically designed to fit a DoubleTap in finely crafted brown leather. Available in right or left hand models with an retail of $57.
The DeSantis Belt Clip holster, also designed to fit the DoubleTap, fits comfortably inside the pants and is attached with a spring loaded metal clip that fits to most belts. Available in black leather only and in right or left hand versions for $25.
Finally, the DeSantis Pocket Holster for the DoubleTap; using a hook and loop material on the outside of the holster keeps the holster in the pocket when drawing the weapon. A slick interior finish helps the weapon release from the holster and prevents the weapon from "printing" in pants and will not wear out pants with extensive usage. The DeSantis Pocket Holster is ambidextrous and available in black nylon only for $20.
For the tactically minded, no other company offers the best in tactical nylon than FirstSpear. FirstSpear has designed several items specifically for the DoubleTap and available nowhere else but at Heizer. First offering is a MOLLE Deployment Pouch. This small, black nylon zippered pouch attaches to any belt or vest. Quick pull, dual zippers open up a compartment with an elastic holster allowing immediate DoubleTap access. An extra zippered compartment holds a spare barrel, the Heizer Storage Devices and extra ammo. Retail for the MOLLE Deployment Pouch is $55.
Another exclusive FirstSpear product is the black nylon Ankle Holster. This comfortable, all-day wearable rig is very lightweight, weather resistant and has an adjustable stretch-cord retention system. Available in right or left hand models for $50.
Another FirstSpear product is their Pocket Holster made from lightweight, breathable nylon that allows easy weapon release even from tight jean pockets. An ambidextrous model is available in black nylon for only $15.
The final FirstSpear product made exclusively for Heizer is the Pistol Lanyard which attaches to the DoubleTap lanyard loop on the butt of the weapon providing a secure nylon retention device to the operator that wants to keep his weapon during extreme conditions. The lanyard can be attached to the belt or vest and the design allows for a full arm's length pistol draw. Retail is $20.
Related: