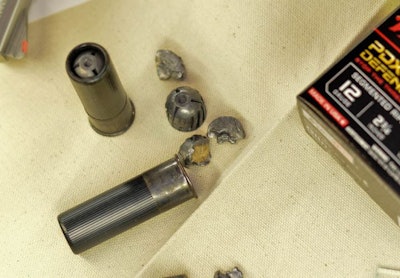 Winchester's Segmenting Slug 12-gauge shot shell is tailored to deliver stopping power for closer-range engagements with a hybrid design that's part-slug, part-buck shot. The shells were introduced at SHOT Show in Las Vegas.
When fired from 50 yards out, the slug hits any barrier and stays in one piece. At 40 yards, the slug breaks into two pieces after impact. At 30 yards and less, this round offers devastating stopping power, breaking into three pieces after impact.
When fired at other barriers such as glass or steel, the slug flattens out, staying in one piece, a Winchester rep told POLICE Magazine.
The rounds offer the advantages of buck and rifled slugs, according to Winchester.
"It eliminates the need for two different rounds—no more gauging of target distance and no cumbersome transitions during a critical incident," according to the Winchester Website. "This greatly simplifies the shotgun platform, allowing one round to be used for all situations."
The 2 3/4-inch shells have a muzzle velocity of 1,585 fps. They weigh one ounce.