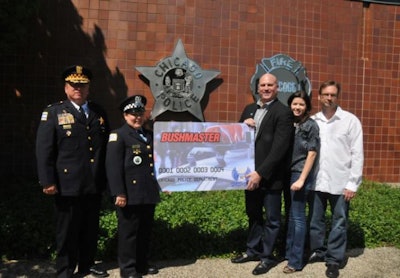 The Chicago Police Department will equip its 7th District (Englewood) personnel with Bushmaster rifles purchased with grant funds from the Spirit of Blue Foundation, the foundation announced.
The foundation awarded a safety equipment grant to the agency as part of its 2012 grant program. The official presentation took place on April 23 at the Chicago Public Safety Headquarters with Commander Leo Schmitz from 7th District; Sgt. James Pardell, who serves on the department's Firearm Training Unit; Todd and Melissa Parola, who founded the Spirit of Blue Foundation in 2010; and John Gordon, representing the Chicago Police Memorial Fund.
The Bushmaster Firearms sponsored grant is the result of an annual holiday fundraising campaign that encourages participants to nominate a law enforcement agency they would like to see receive a safety equipment grant.
Officer Paula Krezbiot, who was also in attendance at the presentation ceremony, purchased a Spirit of Blue wreath during the holiday season and submitted the agency for the grant. The department was randomly selected from over the 300 agencies submitted to receive a grant.
Several other 2012 grants will be announced later in May. In 2011, the Spirit of Blue awarded three grants used to purchase Bushmaster patrol rifles to the following agencies: New Berlin (Wisc.) Police Department, Cedar Rapids (Iowa) Police Department, and the Maine State Police.
Eight additional private equipment manufacturers have recently joined in partnership with the Spirit of Blue to expand the grant program—Blue Force Gear, Magpul Industries, Combat Medical Systems, L3/EoTech, A-TACS, Leupold Tactical Optics, Amped Software, and SentrySafe.