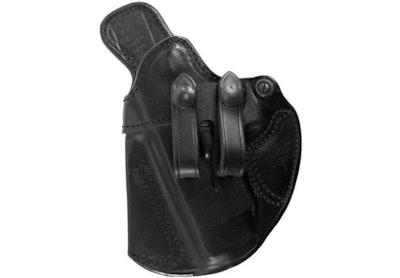 Helgen Industries' DeSantis Gunhide unit has introduced two new holster fits for the Springfield Armory XDS .45-caliber, including the Cozy Partner and Thumb Break Mini Slide.
The Cozy Partner arrives with a specially crafted memory band, which retains the holster's shape and makes one-handed re-holstering easy. This holster must be worn with a belt. The 1 3/4 inch split belt loop is standard. The Cozy Partner is available in tan or black unlined leather and an optional black or tan leather belt loop (#Y20) is available separately. Style #028 retails for $72.99.
The Thumb Break Mini Slide is crafted from premium saddle leather. This exposed muzzle, two-slot holsteris made with double seam stitching and a highly detailed mold. The thumb break features an adjustable-tension device for an even more customizable fit. It is available in black or tan leather. Belt slots are 1 3/4 inches wide. Style #085 retails for $68.99.