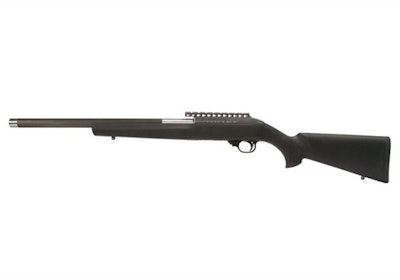 Magnum Research, Inc. (MRI) has introduced the re-engineered Magnum Lite MLR22 Win Mag rifle series in a semi-automatic version. The Magnum Lite series includes six models, including two with an 18-inch stainless steel barrel, and four with a 19-inch graphite barrel.
The graphite rifle barrel utilizes uni-directional graphite fibers parallel to the bore axis, resulting in a barrel with six times the stiffness of the equivalent weight of steel. The lighter barrel is easier to handle and dissipates heat up to 43% faster than steel, according to the company.
Features include an 11-degree muzzle crown, a weaver-type rail for optics in a black anodized finish, and a patented gas system and block under the barrel that taps a small amount of gas through an orifice hole in the barrel. The result is higher efficiency and improved accuracy when using 40-grain and 50-grain loads (30-grain is not recommended).
The one-piece CNC-machined receiver with integral scope base has been manufactured utilizing 6061-T6 aircraft aluminum. MRI bolts are manufactured and machined from heat-treated and hardened 4140 steel with minimum head space. Engineering changes have also been made to various springs and the chamber.
All models utilize the 10/22 trigger group and 10/22 rotary magazines. For 10/22 owners, the graphite barrels can be purchased separately through Magnum Research Customer Service or their online store.
Other options available among the five Magnum Lite MLR models include thumbhole stocks on the Barracuda Nutmeg, Barracuda Pepper, and Barracuda Forest Camo. The MLR Hogue comes in an OverMolded black stock, and the stainless steel barreled model can be purchased in either the Hogue OverMolded black stock or Barracuda Pepper stock.
The weight of the graphite barrel model in the MLR22 series is less than five pounds with an overall length of 35.5 inches (38 inches on the stainless steel model and just over seven pounds). The rifles retail from $727 to $935.