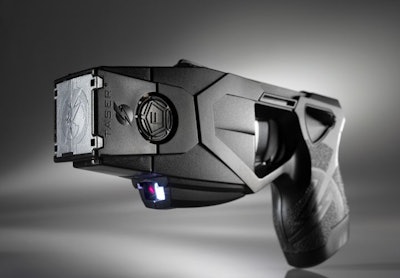 TASER International of Scottsdale, Ariz., has introduced the TASER X26P, the company's latest less-lethal device for officers.
The single-shot X26P is compact, and fires the same cartridges as the original X26. The new electronic control device integrates core elements of the Smart TASER platform from the TASER X2 that include an all-digital, solid state architecture that measures and adjusts the charge output to the optimal level.
The X26P's Trilogy Logs record user actions such as safety activation and trigger duration with times, dates, battery life, and a pulse-by-pulse record of the charge output.
Additionally, the device's "universal smart platform" provides compatibility between the X26P and X2 with the TASER CAM HD recorder, high capacity Performance Power Magazine (PPM), Automatic Shut-Down Performance Power Magazine (APPM), integration with Evidence.com.