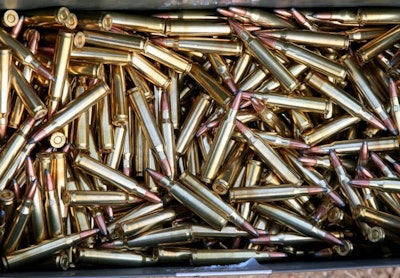 A spike in ammunition purchases by civilians has left several police departments around the country scrambling to outfit their officers with ammunition.
Sgt. Byron Roberson of the Prairie Village (Kan.) Police Department told KSHB his agency has been added to a waiting list for additional rifle ammunition and doesn't expect to receive it until May.
The agency has enough reserves and will rely on other agencies if that runs out.
Several Georgia law enforcement agencies told WSB-TV they have ammo on back order with local firearms dealers.
The Douglas County (Ga.) Sheriff's Office pushed back several training exercises while scrambling to restock.
"It could be six months. It could be eight months," Douglas County Chief Deputy Stan Copeland told the media outlet.
Other agencies such as the Austin Police Department, San Antonio Police Department, and Reno Police Department told media outlets they have enough reserves to equip officers.