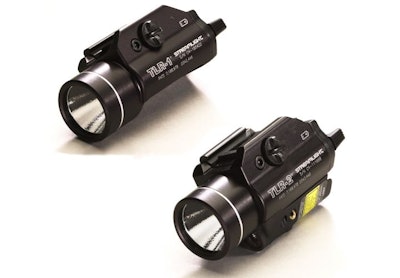 Streamlight has upgraded the lumen light output and intensity of its TLR gun-mounted tactical lights. The company upgraded the TLR-1 and the TLR-2, as well as the strobe-equipped versions of these lights (TLR-1s and TLR-2s). Both TLR-2 models also feature an integrated red aiming laser.
All four models now provide 300 lumens and 12,000 candela peak beam intensity. Each features a C4 LED that is impervious to shock with a lifetime of 50,000 hours. In addition, Streamlight's proprietary deep-dish parabolic reflector provides a concentrated beam with optimum peripheral illumination to aid in navigation. The TLR-2 models feature a 650-660 nanometer red laser for long-range targeting, according to the company.
The upgraded models provide 2.5 hours of continuous runtime to the 10% output level with solid state current regulation for consistent illumination level.
All four lights offer a momentary-to-steady on-off switch. The TLR-2 models also provide a three-position mode selector switch for laser only, LED only, or both modes together. The strobe feature on the TLR-1s and the TLR-2s is activated by a double tap of the momentary paddle.
The TLR lights feature a one-handed, snap-on and tighten interface that keeps hands away from gun muzzles when attaching or detaching the lights. The lights mount directly to handguns with Glock-style rails and to Picatinny rails. All four lights come with keys for Glock-style, Picatinny, Beretta 92, S&W 99 and S&W TSW rails.
The TLR-1 models weigh 4.18 ounces while the TLR-2 models weigh 4.72 ounces. All four measure 3.39 inches in length and are powered by two 3-volt CR123A lithium batteries, which have a storage life of 10 years. The TLR-1 models feature an IPX7 rated design, meaning they are waterresistant to 1 meter for 30 minutes. The TLR-2 models feature an IPX4 rated design for water-resistant operation.
The TLR-1 and TLR-1s retail for $194 and $199. The TLR-2 and TLR-2s retail for $483 and $488.