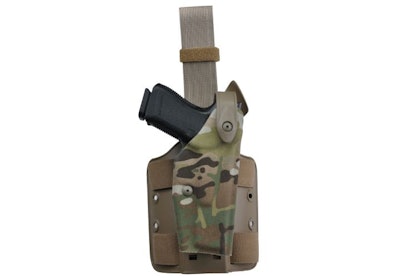 Safariland has introduced the SLS Low Signature Tactical Holster (Model 6004USN), which features SafariLaminate construction with a Cordura nylon covering designed to provide a low signature to infrared lighting.
The 6004USN SafariLaminate wraparound construction provides the foundation for the holster's shape and strength, and the 500-denier Cordura nylon allows for a durable, abrasion-resistant outer finish. The Self Locking System (SLS) rotating hood enhaces retention. This snap-free design allows for a quick and smooth single-motion draw. The molded sight track and soft suede lining help protect the gun's sights and finish, and the dual strap leg shroud with mounting holes allows for optional accessories to be mounted to the rig.
Customizable features of the 6004USN are the inclusion of the Safariland 3-hole pattern for mounting the leg shroud but also the optional Quick Locking System (QLS), which allows the user to mount the holster in various configurations, providing a rapid transition between mounting points.
The 6004USN is currently offered for Glock 17/22, Glock 17/22 with SureFire X200/X300 lights, Springfield 1911-style and similar, and Springfield 1911-style and similar with SureFire X200/X300 or X400 lights. Cordura nylon finishes offered are MultiCam, Ranger Green, Coyote, and Khaki. It retails for $205-$220.