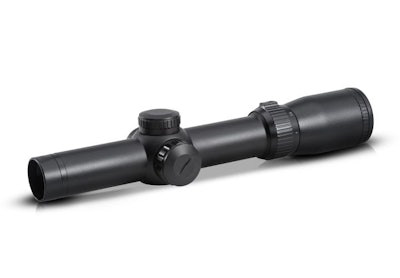 Traditions Tactical of Old Saybrook, Conn., has introduced the AR Marksman and AR Patrolman scopes in addition to screw rings for AR platforms, the company announced.
The AR Marksman scope in matte black is available in 3-12x44 and 4-16x44. The Marksman also includes a parallax adjustment from 10 yards and up. These scopes have an illuminated mil-dot reticle in green and red. Additionally, the Marksman scope has a 30mm tube for maximum light gathering. They retail for $199.99 each.
The AR Patrolman model in matte black is offered in 1-4x24. The scope has an illuminated mil-dot reticle in selectable red or green dot with crosshair, allowing you to shoot with both eyes open for quick target acquisition. Additionally, the Patrolman has an adjustable magnifying ring up to four power and a full 30mm tube for maximum light gathering. The Patrolman retails for $179.99.
Traditions Tactical has also offered four or six screw rings for flattop AR platforms. The oversized hex nut ring bases and hardware provide solid attachment, and the extra-wide ring design securely holds the scope in place. The rings are available in 1 inch or 30mm and heights of medium, high, or extra high. They retail from $19.99 to $25.99 for a pair.