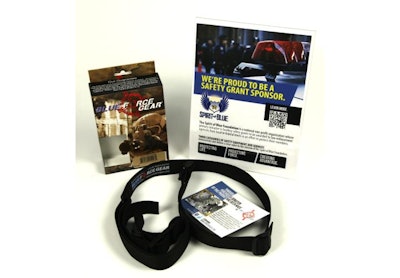 A $5,000 donation from Blue Force Gear to The Spirit of Blue Foundation will provide safety equipment grants to several law enforcement agencies, according to the foundation.
The Spirit of Blue Foundation works nationally to support the law enforcement community through the award of safety equipment grants, funded by private and corporate donations.
The funds came from a portion of the 2012 sales of Victory Series slings. Victory slings, which are available in single-point and 2-point models, were originally designed as a more affordable option for officers who outfit their own patrol rifles. The Victory sling has the same functionality as the Vickers Combat Applications Sling, but is constructed with more budget conscious materials.
The donation from Blue Force Gear coincides with a major fundraising push by the foundation, which includes a new public service announcement on the Outdoor Channel featuring actor Vincent D'Onofrio ("Law & Order: Criminal Intent") and a new text-to-pledge campaign fueled by Mobile Cause that allows donations to be submitted by texting "BLUE" to 41444. The foundation hopes to raise $25,000 by July 1.