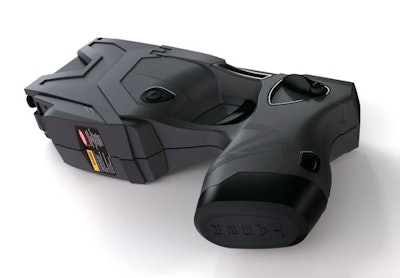 TASER International released a fourth-quarter 2012 financial report last week that showed business at the world's leading manufacturer of conducted energy weapons (CEWs) for law enforcement was on the upswing.
The publicly traded TASER (NASDAQ: TASR) recorded sales of $32.1 million in the fourth quarter of 2012, a 50.6% increase over the company's fourth quarter 2011 tally of $21.3 million. A company statement credited the performance to the new TASER X2 CEW, and the TASER Protection Plan, which aids law enforcement agencies in upgrading their CEWs.
Agencies buying the TASER X2 during the quarter included the Phoenix Police Department, Tempe (Ariz.) Police Department, Cleveland Police Department, Knox County (Tenn.) Sheriff's Office, Washtenaw County (Mich.) Sheriff's Department, Cobb County (Ga.) Police Department, and Baton Rouge Police Department.
Overall 2012 was an excellent year for TASER. The company's unaudited consolidated statements of operations show a net income of $14.7 million vs. 2011's loss of $7.0 million. The company attributes the 2011 performance at least partially to a $3.7 million excess inventory charge involving the X3 CEW and the first generation of AXON on-body video products.
TASER says strong sales of the X2 CEW helped propel the company to a 2012 profit. "The X2 Smart Weapon continued to show strong growth in the fourth quarter, which is evidence of the success of our upgrade program," said company CEO Rick Smith in a prepared statement. "With the release of the X26P Smart Weapon [in the first quarter of this year], we anticipate even more agencies will take advantage of our upgrade programs in 2013."
Quarter four of 2012 also saw some momentum begin to build in the on-body video and evidence software sectors of TASER. "Bookings [for AXON Flex and EVIDENCE.com] continued to trend upward this quarter, growing 26.8% sequentially from the third quarter," Smith said.