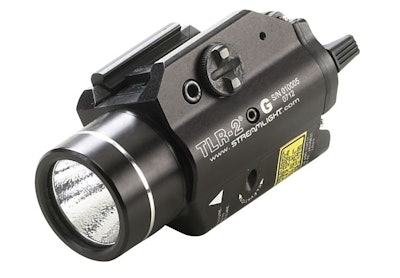 Streamlight has introduced the TLR-2 G, a lightweight, gun-mounted tactical light featuring a green aiming laser to provide greater visibility for long-range targeting.
The TLR-2 G, which uses the latest C4 LED technology, features an integrated green laser that appears brighter to the human eye than other colored lasers, particularly in daylight, according to Streamlight.
The TLR-2 G delivers 200 lumens and 6,300 candela peak beam intensity. It features a shock-proof C4 LED, and a textured parabolic reflector that produces a concentrated beam with optimum peripheral illumination to assist with navigation. It includes a 522-542 nm green laser integrated in the light's reflector.
The light can be deployed in laser-only mode to keep the gun on target, LED-only mode to provide bright, focused light, or in dual mode, which uses both light sources.
It provides a run time of 1.5 continuous hours to the 10% output level when used in the LED-nly mode, 1.25 hours when using the LED and laser modes simultaneously, and nine hours in the laser-only mode. Double tapping the light's momentary paddle activates the strobe function, which also can be disabled.
Powered by a single three-volt CR123A lithium battery with a storage life of 10 years, the TLR-2 G weighs 4.58 ounces and measures 3.39 inches in length. The main body is constructed from 6000-series machined aircraft aluminum with a black anodized finish. The housing is fabricated from high-impact, chemically resistant engineering polymer.
The TLR-2 G mounts directly to handguns with Glock-style rails and to MIL-STD-1913 (Picatinny) rails. Five interchangeable keys help fit the light to various weapons. The TLR-2 G fits existing TLR-2 holsters.
The new light features an IXP4-rated design for water-resistant operation. The operating temperature range of the green laser is 32 to 104 degrees Fahrenheit. The TLR-2 G retails for $550.