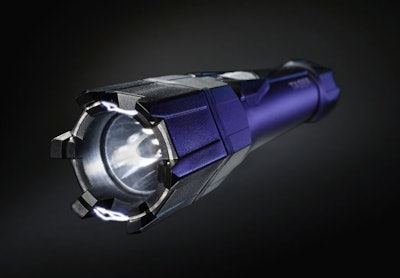 TASER International, Inc. has introduced the StrikeLight LED flashlight, a personal defense flashlight with an integrated stun gun.
The StrikeLight is designed for "convenience and protection in everyday situations," according to TASER.
"We designed the StrikeLight flashlight around the needs of everyday people looking to feel safer, or as a gift to protect the ones they love," said Rick Smith, TASER's CEO. "At TASER, we recognize the importance of feeling safe no matter what you're doing."
The flashlight's stun gun deploys a loud, intimidating electric stun arc as an initial deterrent to threats. Unlike the X26 and other law enforcement products, the StrikeLight doesn't fire projectiles to cause neuro-muscular incapacitation. It's stun capacity can be used to repel close-range threats.
The stun gun is paired with an 80-lumen flashlight that reaches 55 feet with a 70-degree beam angle, according to the company.
The StrikeLight includes a replaceable and rechargeable battery rated to provide five hours of continuous use per charge. The charge supports up to 100 five-second discharges. It retails for $129.99 and includes a wall charger.