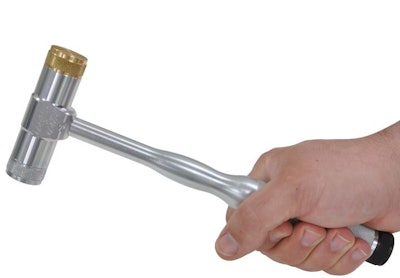 Magna-Matic Defense has introduced the PSDB1 precision steel Dead-Blow Hammer specifically designed for gunsmiths and armorers, according to the company.
This hammer stands out because of its "dead-blow" feature. It includes a removable steel slug that moves within the head of the hammer to provide a kinetic transfer of energy to multiply your hitting force.
The slug can be stored in the handle or removed to change the weight of the hammer. The curves in the handle provide various handle positions to choke up for light tapping.
The PSDB1 includes three interchangeable hammer tips. The hammer tip diameter is one inch, and includes, one brass, one Delrin (plastic), and one case-hardened steel tip.
The PSDB1 is CNC-machined steel, made in the U.S., and zinc-plated for corrosion resistance. It's available in three colors and retails for $64.99.