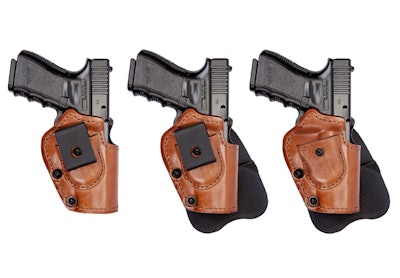 Front Line, which is distributed in the U.S. by The Mako Group, has introduced the Quad concealed carry holster that offers four configurations for off-duty carry.
The Quad allows officers working in plain clothes or off duty, to carry a sidearm in the right, left, inside, or outside position. The holster offers a minimized profile and maximum comfort with pants, suits, jeans, shorts, sweats, shirts, sweaters, and even with skirts and blouses, according to the company.
The Quad holster is made of brown or black leather over Kydex and lined with suede for strength, durability and a smooth draw. Retention is adjustable. The holster retails for $104.65. It's available now with a law enforcement discount for $76.40.