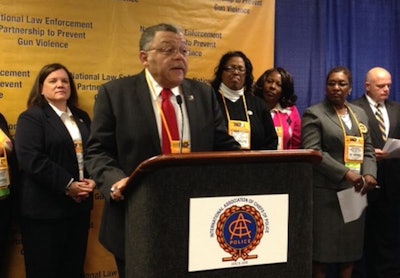 A coalition of police chiefs stepped up their advocacy for extending firearm background checks to private sales, gun shows and online sales, saying the measure is needed to stave off mass shooting attacks.
A group calling itself the National Law Enforcement Partnership to Prevent Gun Violence called for the measure at the IACP Conference in Philadelphia.
"We are here because gun violence is destroying our communities, especially here in Philadelphia," said Philadelphia Police Commissioner Charles Ramsey at a Tuesday press conference.
Police leaders from Baltimore County, Pittsburgh, and Wellesley, Mass., urged Congress to adopt a federal law requiring universal checks for all gun sales. In April, the US. Senate rejected the Manchin-Toomey amendment that would have expanded background checks.
On Wednesday, Baltimore County Police Chief Jim Johnson said the measure would reduce mass attacks and assualts on officers by prohibited purchasers such as felons via straw purchases and the mentaly ill. Chief Johnson cited the fatal shooting of Berks County (Pa.) Sheriff's Deputy Kyle Pagerly in 2011 by a suspect who had acquired a gun via a straw purchase.
"We can do so much mre to prevent these tragedies," Chief Johnson said.
The partnership includes representatives from the International Association of Chiefs of Police, Major Cities Chiefs Association, the Police Executive Research Forum, and the Police Foundation.
Ramsey and others said 60 percent of all firearm purchases in the country have background checks done.