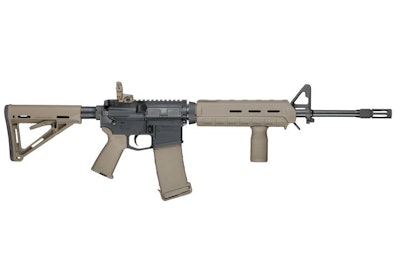 Smith & Wesson has supplied the Maricopa County (Ariz.) Sheriff's Office with 400 M&P15 (MOE) Magpul Original Equipment Mid rifles for its patrol deputies, the company has announced.
Sheriff Joe Arpaio announced the acquisition of the M&P15 MOE Mid semi-automatic rifles, which were purchased through asset seizure funds, earlier this month. Sheriff Arpaio's office purchased the rifles after several violent incidents involving his patrol deputies. Every Maricopa County patrol deputy will now be armed with a Smith & Wesson rifle.
"It is critical that deputies have equal or superior firepower to the criminals on the street, and these days that means outfitting them with these duty rifles," Arpaio said.
Other Arizona law enforcement agencies now using Smith & Wesson's Military and Police Series for official and off-duty use include the Yuma County Sheriff's Office, the La Paz County Sheriff's Department, the Sahuarita Police Department and the University of Arizona Police Department.
The M&P15 MOE Mid is a 5.56mm NATO rifle that features a Smith & Wesson/Magpul co-branded lower receiver and a mid-length operating system. The M&P15 MOE Mid rifle's lower receiver features a flared magazine well to ease reloading. For improved handling, the lower is also standard with a forward serrated edge on the magazine well and an ambidextrous finger shelf that allows proper indexing of the trigger finger prior to firing.
The M&P15 MOE Mid features a one-piece integrated trigger guard and comes standard with a 16-inch 4150 CMV barrel with a 1:8-inch twist rate and 5R rifling for improved accuracy. The rifle's barrel has a durable, corrosion-resistant finish; the bolt carrier and gas key are chrome-lined. Smith & Wesson has added its enhanced flash hider that directs gases and sound forward away from the shooter while helping to eliminate secondary flash.
The M&P15 MOE Mid is standard with a MOE six-position, collapsible butt-stock; a modular MOE mid-length hand guard; a folding Magpul MBUS rear sight; a traditional A2-style front sight; MOE pistol grip; and a removable MOE vertical grip (MVG).