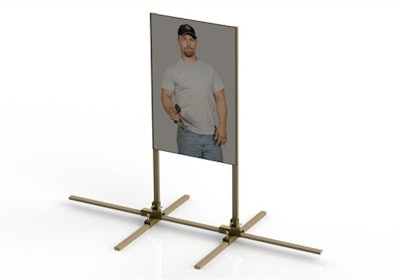 Range Systems, a manufacturer of live fire shooting products for the military, law enforcement, and consumer communities, has introduced a simple solution for mounting paper targets – the Quik Stand.
The Quik Stand set includes two zinc-coated tube steel base feet and a set of zinc-coated thumb screws. The base feet measure 6 x6 x 5.25 inches high overall. Users can choose to complete their stands by using their own standard 1x2s or 2x2s. Each base can accommodate either, allowing the user to mix and match with available lumber. Several stands can also be attached together to create a variety of firing courses, daisy-chained together in a line or staggered for shooting at various distances.
The Quik Stand is 2.5 pounds per base. In order to set it up, just insert a standard 1x2 or a 2x2 of any length into the slot, and use the thumb screws to tighten the base around your lumber.
MSRP for a set of two Range Systems Quik Stand bases is $29.99.