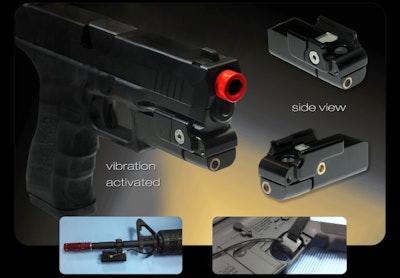 Laser Ammo has announced its new training laser, The Firefly. It's designed as a cost-effective custom-build laser trainer platform that will support Laser Ammo's military, law enforcement, and simulator customer needs in converting fully operational or mock-up blowback handheld firearms (CO2 / Blanks / Airsoft ) into laser-emitting training rifles or pistols custom tailored to interface with their existing training systems.
Benefits:
Full compatibility with existing systems
Easy conversion for "off the shelf" non-weapons or service weapons into training tools
Quick Installation and removal
Custom programming enables these advanced features: multiple user IDs, different pulse lengths, bullet counters, aim tracing
Dual activation option: vibration and/or dry fire trigger switch
Adjustable vibration sensitivity
Perfect miniature size to accommodate different firearms from pistols to rifles
Large variety of laser wavelengths for order – visible or IR
Use with any simulator or force-on-force application (including MIELS)
Works with any electronic targets
Different mounting options based on integrated picatinny rail
Adjustable windage and elevation
Standard battery
How does it work?
After receiving complete specifications from the customer, Laser Ammo will configure the PCB to receive the sensor interface type chosen. Thus, Laser Ammo will program the microcontroller, install requested laser module including wavelength, output power and collimation. If needed, Laser Ammo will also supply customers' designed mounting brackets and/or adhesive. Once configured, the customer receives the custom kit and self-installs.
Technical Features:
Available laser wavelength: 635nm, 650nm, 780nm, 850nm, 905nm, 980nm
Laser output power: 0.8mw to 7.5mw
Narrow or wide beam collimation
Environmental durability: IP65
Vibration sensor, programmable sensitivity and response
Input connector (2 wires to jack, programmable response): tact switch, REED, switch, trigger switch
Adjustable elevation and windage
Dimensions: L 62mm, W 27mm H 20mm (not including picatinny)
Battery: CR14250
Examples of Programmable Features:
Pre-defined shooter IDs by length or binary code
MILES code - including distinct SPID
Constant pulsing, single different length pulse when trigger is pulled
Prices vary according to specification and volume, starting from as low as $352 for a minimum of 15 units (additional programming or custom fees may apply).
About Laser Ammo
Laser Ammo Ltd. develops and sells firearms training products for civilian, law enforcement, and military markets. Owned and operated by former Israeli and U.S. military combat veterans, Laser Ammo is dedicated to providing serious training for serious professionals. The company's products, including the SureStrike dry fire training system, electronic targets, and more are used by military, law enforcement agencies, NRA instructors, and firearm owners worldwide. The Laser Ammo family of products allows operators to utilize their specific weapons platform, including Air soft or recoil conversion systems, for dry fire training.