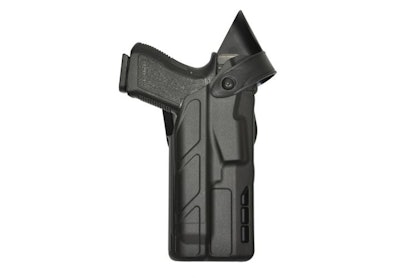 Safariland announced today the expansion of the 7TS Holster Series with new fits for the Glock 17/22 and 19/23 with the most popular lights, and new fits for the SIG Sauer P220R/P226R, P227 full-size/compact and the P229R. Quickly gaining popularity since they hit the market in 2013, 7TS holsters feature a proprietary nylon blend called SafariSeven, which is impervious to extreme heat and cold, is non-abrasive to the firearm's finish and features a special construction that strengthens the holster body, according to the company. These new fits are offered in a variety of duty, tactical, and concealment models.
"With the sales growth in this series since they made their debut last year, there has been an evident demand for 7TS models for firearms with lights," said James Dawson, Category Director, Safariland Duty Gear. "We will be looking to satisfy the market with more fits for firearms with lights in the future."
Six Safariland models available for Glock 17/22 and 19/23 accommodate the ITI M3, Streamlight TLR-1, and Surefire X200, X300, or X300U lights. These are the first fits to be introduced for firearms with lights in the 7TS series. Additionally, Safariland is releasing nineteen 7TS Series holster fits for the rail and non-railed SIG Sauer P220R/P226R, P227 full-size/compact and P229R firearms. These are offered in a variety of models with the ALS open-top, ALS/SLS, or SLS-only retention features. Safariland will continue to release fits for the H&K P2000 and P30, which will be available in the coming weeks.
Safariland patent-pending 7TS holsters are injection-molded, highly durable, and are operational in extreme weather conditions from -50 degrees to +300 degrees, Fahrenheit. Constructed from a SafariSeven nylon blend, the 7TS is completely non-abrasive to the weapon's finish. SafariSeven is also extremely lightweight and impact-resistant.
The 7TS holster models are priced from $49.50 to $199 and are available in Black and FDE Brown. For more information about Safariland holsters and other Safariland duty gear products, visit www.safariland.com/dutygear.