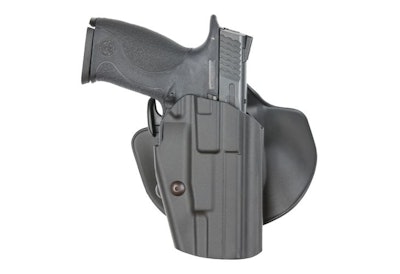 Safariland has announced the debut of the Model 578 GLS Pro-Fit Holster, bringing its distinctive GLS (Grip Locking System) to fit a wide variety of guns with a single holster.
Designed to fit more than 60 firearms based on barrel length and be customizable for a perfect fit, the 578 GLS Pro-Fit features an innovative technology that automatically secures the weapon when holstered and releases it upon application of the middle finger with a standard shooting grip for a more intuitive and safer release. It's the only holster on the market that can fit a wide variety of handguns with a secure and easy-to-use GLS lock up, according to the company.
"Building on the recent success of the GLS and 7TS holster lines, Safariland continues to innovate by combining these two unique features in the 578," said Scott Carnahan, Vice President, Equipment Category. "As a multi-fit holster, it's available to a wide variety of our users, making this revolutionary safety-enhancing technology more accessible than ever."
The 578 Pro-Fit holster body is constructed with SafariSeven material featured in the 7TS line of holsters. This lightweight, state-of-the-art nylon blend is completely non-abrasive to a gun's finish, tolerant of extreme high and low temperatures, and easy to maintain.
The low-cut and compact 578 Pro-Fit holster rides close to the user's body for concealment while still providing easy access for a quick draw. The holster includes an injection-molded paddle and an injection-molded belt loop that is adjustable for maximum comfort and allows the holster to be worn cross-draw.
The 578 GLS Pro-Fit is available in SafariSeven Plain Black and FDE Brown finishes with an MSRP of $55. Four fits are available that fit a wide array of Glock and S&W handguns.
Established in 1964, Safariland is known for its technologically advanced holsters and other gear for the law enforcement, military, concealment and competitive sporting markets.