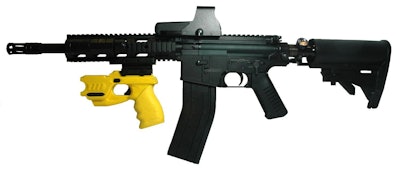 The Phazzer Raptor is a new projectile launching less-lethal weapon designed to replicate nearly every feature and function of the M4/M16 family of combat rifles, including trigger pull and trigger reset, balance and natural point of aim, as well as reloading and field-stripping procedures. It can launch projectiles to mark or incapacitate a suspect at up to 50 meters away.
Like an AR-style rifle the Phazzer Raptor features standard tactical rails for mounting scopes, illuminators, lasers, and other devices. It also can be fitted with the Phazzer Enforcer CEW. The Phazzer Enforcer can be attached to the lower front rail mount to give operators multiple less-lethal options on the same platform.
A wide range of munitions can be launched from the Phazzer Raptor, including marking rounds for identifying suspects, and capsaicin, rubber "kinetic," and window breaching projectiles. Phazzer says the Raptor offers users precise suspect neutralization with minimum collateral damage/injury.
Technical Specifications:
Operation Type: Semi-Automatic
Ammunition: .68 Caliber Rubber, Capsaicin, UV Marking, Paint Marking, Low Impact, High-Impact Glass Breaker.
Ammunition Source: 20-Round Magazine
Range: Up to 50 Meters
Velocity: Up to 350 feet per second
Propellant: Refillable, Onboard Compressed Air/CO2 Tank
Stock: Collapsible, Multi-Position
Sights: Adjustable Metallic, Accepts All Optics
Warranty: Two-Year Factory Warranty on Parts and Materials
Features: Externally identical to M4 carbine, internal Flexi-Air System for propellant, accepts standard 0.5-inch threaded compressed air/CO2 bottles, accepts virtually all tactical rail-mounted accessories, can mount a Phazzer Enforcer CEW.