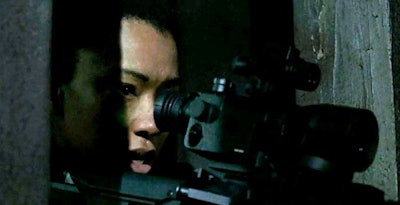 American Technologies Network Corp. (ATN), known for advanced night vision, thermal imaging and digital SMART HD optics for hunters, outdoor enthusiasts, military and law enforcement, announced that the ATN Aries MK 350 Guardian was recently featured in the opening sequence of Episode 515 "Try" of AMC's "The Walking Dead." The episode, which first aired on Sunday, March 22, 2015, shows Sasha keeping watch for zombies in the clock tower with a rifle equipped with the Aries MK 350 Guardian.
"American Technologies Network Corp. is proud to have one of TV's most popular shows use our product to snipe zombies," remarked ATN's Director of Marketing Chip Fong. "Evidently there is no substitute for ATN night vision with Sasha of 'The Walking Dead.'"
The ATN Aries MK 350 Guardian is the most rugged yet compact 1st Gen. Weapon Sight on the market, measuring only 10.8" long and weighing in at 2.9 lbs., according to the company. It features ATN's "Red on Green" reticle system for accuracy and windage and elevation adjustments are 1/4" at 100 yards. Other features include a super-fast Front Lens System for optimal brightness, easy push-button operation, reticle brightness adjustment, and ATN's detachable 450 mW Infrared Illuminator. The ATN Aries MK 350 Guardian mounts onto any U.S. standard 7/8" weaver or Picatinny rail.