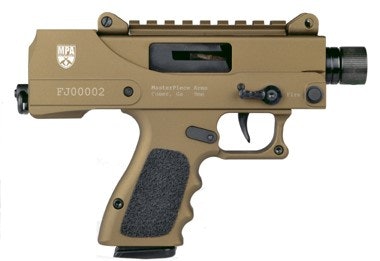 MasterPiece Arms (MPA), manufacturers of the MPA MAC Line of semi-auto pistols, carbines, suppressors, and MPAR Rifles, proudly announces the MPA930DMG, the first all-aluminum lower pistol from the new DMG (Defender, Machined, Grip) Series. This 9mm pistol is based on the 930sst, but includes a fully machined aluminum pistol grip and lower receiver. The 930DMG uses our fully machined grip system matched up with an all-aluminum lower receiver – significantly reducing the overall weight of the pistol.
The 930DMG is chambered in 9mm, uses GLOCK-style magazines, has adjustable front and rear sights, has a built-in single point sling flush cup, and has mounting holes for a rear fixed or side folding stock.
The MPA930DMG comes standard in "Cerakote Tungsten" coating. It is also available in Black, Gunmetal, Flat Dark Earth, and Burnt Bronze Cerakote finishes. The pistol is further equipped with a side cocker, scope mount, and hammer with disconnect (plus original hammer), and comes in an MPA polymer case.
MPA30DMG Specifications:
Caliber: 9mm
Barrel Length: 3.5"
Weight: 46 oz.
MSRP: $679.99
For more information on MasterPiece Arms and their product line of pistols, rifles, carbines and suppressors, visit www.masterpiecearms.com.
About MasterPiece Arms
MasterPiece Arms, located in Comer, Ga., combines quality engineering and state-of-the-art manufacturing to design and produce firearms, such as the re-innovated MAC Defender Series. MasterPiece Arms uses high accuracy CNC machining, turning, barrel making, laser cutting and bending in its manufacturing process controlled by their ISO9002/TS16949 Registered Quality System.
MPA engineers test and re-test our weapons to provide customers with one of the most enjoyable guns available. With versatile uses such as personal and home protection, long range shooting, hunting and tactical interests, MPA products are one of a kind and backed by a lifetime warranty for original owners. Learn more about MasterPiece Arms products at www.masterpiecearms.com or call 866.803.0000.
MasterPiece Arms is on Facebook at www.facebook.com/MasterPieceArms.