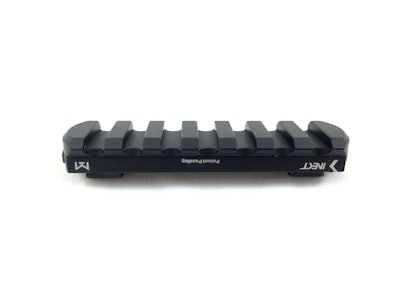 Kinetic Development Group has announced that its Kinect 7-Slot MLOK QD rail section is now available at authorized KDG dealers and distributors, and on the KDG website.
The Kinect by KDG for MLOK is a new QD mounting system that will change the way we attach accessories to our modular weapons platforms, according to the company. Much like the Sidelok optics mounts, Kinect is designed to ensure proper and easy installation, eliminating common variables that would cause issues (ie: overtightening).
Kinect is quite simple in its operation. There are two spring-loaded wedges in the base of the Kinect mounting point. When you press the accessory or rail section down in the MLOK slot, two deployment triggers get pressed against the rail, firing the wedges into place. It can be frustrating fiddling with an allen wrench (if you can find it) to get your accessories on and off your weapon with traditional modular rail sections. This changes the whole dynamic of the MLOK system and really makes every accessory truly removable with the ability to mount it in a second when needed, according to the company.
SPECS:
Length: 3.73" Uses two MLOK section
Width: .82" (20.9mm)
Height: .41" (10.5mm)
Finish: Black Anodized
Compatibility: Compatible with any MLOK rail system. (Rail must be within proper Magpul MLOK Spec for Kinect to work properly. If rail is not in spec, Kinect will not work.)
For more information visit https://kineticdg.com/.