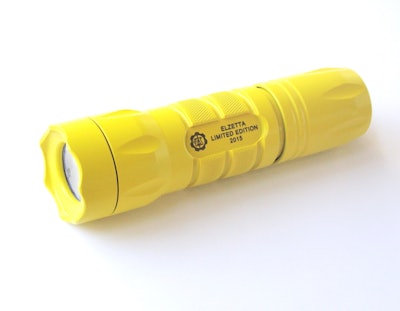 Elzetta Design, LLC has announced the release of its 2015 Limited Edition Modular Flashlights.
For the first time, an Alpha Model has been chosen for the annual Limited Edition run. These 315-lumen, single-cell flashlights feature Mini-CQB Bezel Rings and Click Tailcaps, all professionally finished in electric yellow Cerakote over Elzetta's Type III hard anodizing.
The Limited Edition Modular Flashlights are priced the same as standard Model A31s. That means professional Cerakote finishing, a unique Mini-CQB Bezel Ring design, and the exclusivity of a Limited Edition are free.
Elzetta says its Limited Editions always sell out quickly and are never reissued. The new Limited Edition Modular Flashlight can be ordered at www.ELZETTA.com.