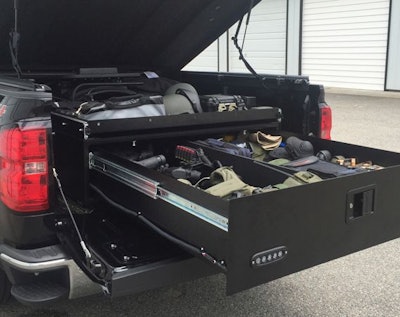 Performance Custom Cabinets LLC, designers and custom builders of security cabinets, gun vaults and mobile command modules for law enforcement, fire/EMS, recreation and professional purposes, announced that the National Tactical Officers Association (NTOA) has awarded the Thorguarde Weapons Vault a 4.32 from their Member Tested and Recommended Program.
The Thorguarde Weapons Vault is a high-security, all-aluminum custom security cabinet for firearms, ammunition, tactical gear and other equipment. It features two Federal Motor Vehicle Safety Standard rotary latches and shoulder pins that make the Thorguarde the most secure weapon vault in the industry. An available Electronic Keyless Keypad allows the user to set their own PIN, providing the ultimate in ease of entry, while always having a key override if necessary. Proudly Made-in-America with over 25-years of hands-on experience in police, fire and rescue services, every Thorguarde is custom made with high quality construction materials to fit your vehicle.
"The vault performed flawlessly," a police officer from Ohio said. "The keys and the electronic touch pad were very simple and easy to use. The vault was hard wired in the cars so that the electronic touch pad would work even if the car was not running. The install (roughly 30 minutes) was very simple. I recommend this very nice, well-built vault."
"The (weapons vault) drawer opened and closed smoothly and can be accessed by a user programmable five digit keyless code. The weapons vault also included two keys. The exterior dimensions are 40" x 18" by 9". The interior storage space measured 36" x 15" x 6". The vault easily secured a carbine with a 16" barrel and related accessories," a police officer from Kentucky added.
The NTOA Member Tested and Recommended Program allows manufacturers to have products tested in the field by the law enforcement community. Results are published on the NTOA website and in the quarterly journal, The Tactical Edge. The NTOA Member Tested and Recommended Program review database is the largest available in law enforcement.
About Performance Custom Cabinets, LLC
Performance Custom Cabinets, LLC designs and custom builds security cabinets, gun vaults and mobile command modules for law enforcement, fire/EMS agencies, and for recreation and professional purposes. The company's emphasis is on high-quality construction materials and custom design. www.securevehiclesolutions.com
Formed in 1983 by Los Angeles County Sheriff's Department Lt. John Kolman to create an association by which tactical teams could network and share information from training to products, the NTOA has since grown to include a broad membership of law enforcement/correction professionals. The National Tactical Officers Association is a non-profit organization currently serving over 40,000 members from specialties that include patrol, TEMS, crisis negotiations, canine, corrections, sniper, protective operations, explosives, command, tactical, dispatchers, behavioral sciences and more. NTOA offers members an annual training conference, interactive members-only website and its award winning publication, The Tactical Edge. http://ntoa.org/