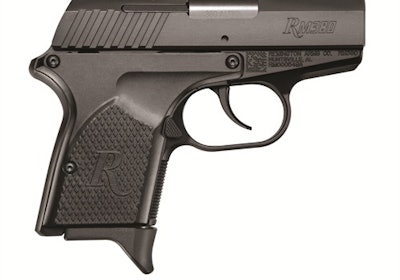 Remington Arms Company, LLC has announced that its Model RM380, an all-metal micro pistol designed for concealed carry, is now shipping and will be available at sporting goods retailers across the country on November 14. The RM380 is Remington's first pistol designed and produced at its new Huntsville, AL, facility utilizing newly installed machining centers, quality enhanced assembly lines and world class test ranges.
In addition to its tough, all-metal construction for ultimate durability and longevity, the RM380 also features the longest barrel in its class to maximize muzzle velocity and bullet expansion while facilitating shooting precision and accuracy.
Weighing just 12.2 ounces unloaded and measuring just 5.25 inches long, the RM380 is easy for anyone to carry unobtrusively. With its extended beavertail grip, Remington's new handgun facilitates a smooth draw, even in suboptimal conditions.
The RM380 also features a light and smooth double-action-only trigger, fully functional low-profile slide stop, light slide racking force, and an ambidextrous magazine release. The replaceable grip panels allow for customization while the optimized grip angle allows for greater shootability and comfort. Remington says its history is deep with small firearms for personal protection, and the RM380 returns the brand to its rightful place amongst the best in market.
The Remington Model RM380 is chambered in .380 Auto with a suggested retail price of $417. For more information, please visit http://remingtonhandguns.com/rm380
Model RM380 Key Features and Benefits:
Fully Functional Slide Stop - holds open on last round
All-Metal Construction – for durability and longevity (7075 Aluminum Frame)
Precise Barrel to Slide Lock-Up – for accuracy and precision
Fully Ambidextrous, Low Profile Magazine Release
Checkered Front Strap and Trigger Guard Undercut – allows for improved control and higher hand hold
Optimized Grip Angle – for comfort, recoil management, and increased shootability
Extended Beavertail – protects hand and promotes correct grip when drawing in suboptimal conditions
Wide, Positive Cocking Serrations
Light Dual Recoil Spring system – for easy slide racking and lifetime use
Includes two 6 round magazines – one flush fit and one finger extension
Remington RM380 Semi-Auto Micro Pistol
Action
Semi-Auto
Caliber
.380 Auto
Mag. Capacity
6+1 (2 included, one flush fit and one finger extension)
BBL Length
2.9 Inches
Barrel Type
410 Stainless Steel
Rifling Twist Rate
1:16
Overall Length
5.27 in
Overall Height
3.86 in
Grip Material
Glass Filled Nylon
Grip Design
Removable, Replaceable Grip Panels
Sights
Rugged Fixed Sights, contoured to be snag free
Trigger Pull
Double Action Only – Approx. 10 Pounds
Average Weight
12.2 Ounces (unloaded &without magazine)
MSRP
$417.00