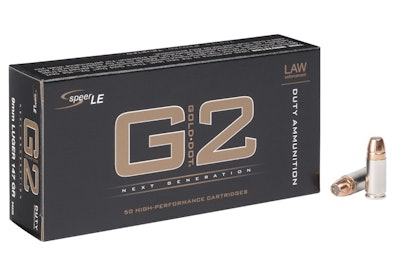 The Federal Bureau of Investigation is returning to the ammunition caliber it labeled ineffective and blamed for the deaths of two of its agents during a 1986 shootout in Miami — the 9mm jacketed hollow-point luger.
In addition to the new bullet, the FBI has decided to purchase a new pistol to fire it, something that could be in the hands of the FBI's approximately 13,000 agents by 2016, according to bureau officials. The FBI has not identified the pistol. The decision could also have far-ranging implications for local law enforcement agencies because they often model their procurement decisions on those made by the FBI, the Washington Post reports.
The bureau dumped the 9mm bullet after the Miami incident because it failed to penetrate far enough into the gunman's torso.
In response, the FBI fielded a new pistol round, one they hoped would have better penetration: the 10mm. In the following years, the 10mm was ditched in favor of the .40 S&W, a stubbier round that could fit into pistols designed for small calibers.
According to FBI Special Agent Ray Cook, the current unit chief of the FBI's Defensive Systems Unit, the bureau, which continuously tests various types of ammunition, began considering a return to the 9mm round in 2007 in part because of advances in ballistic technology.
The new 9mm round —the 147-grain Speer Gold Dot G2 — is significantly more effective than what FBI agents carried into the field in 1986. According to Cook, the bullet has been rigorously tested and has received high marks in the FBI's most important category for bullet selection: penetration.
Cook says that the lighter the bullet, the faster the gun can "drive" the round into the target. For the FBI, that translates into 12 to 18 inches of penetration into the human body. The 9mm's weight, Cook added, also increases an agent's accuracy in a gunfight, according to the findings of a 2014 FBI report that was leaked online last year.