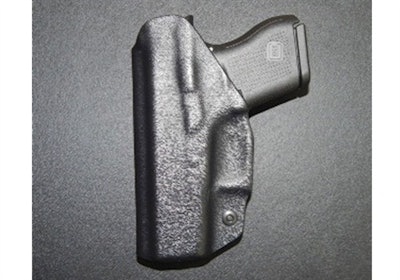 Dara Holsters crafts some of the best custom Kydex holsters in the industry. I recently picked up a Glock 42 pistol for review and was pretty excited when Dara agreed to send me one of the company's inside-the-waistband holsters to round out the package.
Simple in form and function, the Dara Holsters IWB Kydex holster is molded around the gun from a single piece of thin yet rigid Kydex sheeting. The seam in the front is secured with a single captured adjustable screw with rubber grommet to adjust the retention on the gun. The holster is secured to the belt with any one of three options: standard clip-over, J-hook, or soft leather loops. I chose the clip-over as I like the ability to quickly secure and remove the gun from my waistband.
Depending on your desired set-up, the clip-over and J-hook are available in several sizes from 1.5 to 2.5 inches broken down into quarter-inch increments. This allows for a custom and very secure fit to the belt and eliminates the possibility of the holster tilting or inadvertently coming off your belt. If you decide later on that your chosen belt attachment isn't for you, it is easily interchangeable with the others using two large screws.
I wore my G42 in the Dara Holster for a few months almost daily, and I have to say it is one of the most comfortable holsters I've owned. The Kydex is just thick enough to be rigid without adding bulk and extra weight. The clip held up great even with extreme flexing and the gun stayed put. The retention, via the indented trigger-guard portion of the holster, worked fine but was slightly less than I would've liked even with the main screw torqued all the way down. Slightly more aggressive molding of the trigger guard area would fix that issue and I hope Dara considers that down the road. Other than that I've got no complaints.
Custom Kydex holsters are a dime a dozen, but if you're looking for one that is solid, lightweight, and simple, the Dara Custom IWB is right for you. Available for a large variety of pistols, and offering multiple options for ride height, pistol cant, and even colors, the Dara IWB can be configured for just about anyone. The price makes the Dara even more appealing, as it can be had for about $50.