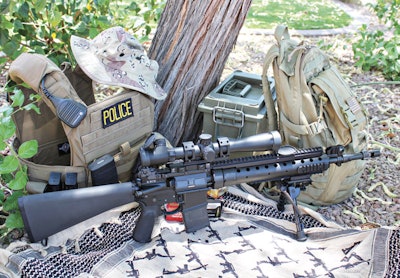 Bravo Company Manufacturing is an established maker of super high-quality AR-15 rifles, parts, and accessories. Based in Wisconsin, this good-old American company known for its "add-ons" is quickly becoming a varsity player in the duty-grade weapons game.
Bravo Company rifles have earned a reputation for superb quality and durability that rivals those the military has been buying for decades. I first got my hands on one a few years back, and I was impressed by the bulletproof utilitarian nature of the gun. I ran it hard and almost offered to buy it on the spot, as I could just tell it would be a workhorse. Although Bravo hasn't ventured too far from this utilitarian model of rifle building, the company does offer a few that will pique more complicated interests. Bravo's version of the Navy's trusty MK12 Mod-0 Special Purpose Rifle, or SPR, is one of them.
The BCM MK12 rifle is considered a "special purpose rifle" in that it serves a specific function, in this case medium-range precision. Originally designed for U.S. special operations units, the United States Navy Mark 12 Mod 0/1 Special Purpose Rifle (MK12) was at first just an upper receiver meant to be attached to an existing M16 lower. The idea was to create a rifle that was more accurate at distance than a standard M4 yet still shorter and more maneuverable than the current M16 platform. The MK12 evolved quickly and when it entered service around 2002 it was in the form of a complete rifle, not an upper receiver group. That rifle was capable of engaging targets with great accuracy out to about 500 yards. Considering the limitations on the 5.56mm NATO round it shoots, that is impressive.
To say there is one specific configuration that qualifies as a true MK12 is misleading. The MK12 is a class of 5.56mm AR-15/M16 rifles designed to be light, versatile, and accurate. Bravo Company Manufacturing's MK12 is all of that and more.
First Impressions
I've had the pleasure of squeezing the trigger on a handful of special purpose AR-15s and AR-10s. Personally, I think accurized versions of the original Stoner direct gas rifles are fantastic, especially for law enforcement use. The trick is to retain superb accuracy for precise, medium-range shots yet keep the gun maneuverable enough to be used for entry work or close quarters gunfighting. I approached my time with the Bravo Company MK12 with these considerations in mind.
The first step was getting it out of the box, pulling it apart, and checking out the details.
Opening up the beautifully forged and finished receivers, I found exactly what I'd expect to find in a top-notch AR-15 rifle. First, the bolt carrier group was what I would consider duty quality. The full-auto M16-configured bolt carrier is fitted with a properly staked gas key and has a chrome-lined interior. The bolt itself is magnetic particle tested and shot peened to true military specifications, and the extractor is made of tool steel for more positive grip on the spent casings and longer service life.
The upper receiver of the MK12 is what really sets this BCM rifle apart from the pack. First, the MK12 receiver is cut with M4 feed ramps for more reliable feeling. This mates perfectly with the M4 barrel extension on the 410 stainless steel barrel with a 1/8 twist. The 18-inch barrel is button rifled and ion-bond black coated. That is, of course, after the bore and chamber are hand lapped to perfection. This is a time-consuming and expensive process usually reserved for custom rifles, not something off the shelf, but it sure can make a difference when it comes time to check your target. Finishing off the barrel is an Ops-Inc muzzle brake and collar (yup, the same one the military uses) already attached and ready for suppressor use.
The furniture on the MK12's upper half is courtesy of Precision Reflex Inc. (PRI). The MK12's carbon fiber hand guard is strong as steel yet super light and complements the PRI gas block with integrated flip-up front sight. There are a couple of short Picatinny rail segments on the bottom and sides to allow for bipod, light, and IR-designator mounting. The rear ARMS flip-up sight is mounted to PRI's Picatinny riser rail that runs the entire length of the upper receiver for a solid, continuous mounting platform for optics and other accessories. This is also adopted from the military's MK12 and has proven to be a great configuration for a precision rifle.
The lower receiver is Bravo Company's standard forged 7075-T6 aluminum semi-automatic lower. With a fixed A2 rifle stock and standard, single-stage military trigger there is nothing fancy about it. Once again, utility wins. I can see a drop-in precision trigger and an adjustable stock in this MK12's future, maybe those that rhyme with Geissele and Magpul PRS, as the standard options are just mismatched with the rifle's capabilities.
Paired together the whole package weighs just under 9 pounds. This is a little hefty for an AR-15 rifle but considering the purpose it is more than manageable.
Getting Ready
Prepping the rifle for the range took a few additional steps and accessories. First, I cleaned and properly lubricated the bolt with my trusty Fire Clean lubricant. After running a brush and a few clean patches through the bore to ensure there was no debris or test-fire fouling to skew my results, the gun was ready to fire.
The MK12's folding iron sights are solid, but considering this is designed to be a precision weapon, they are simply a last resort. The MK12 needs quality glass to truly be effective. Leupold was kind enough to provide me with an MK4 LR/T, or "long range tactical" scope. My example was the 3.5-10x40 with an illuminated tactical milling reticle (TMR). If you're not familiar with the TMR, the concept is actually quite simple, assuming you're familiar with the concept of ranging with milliradians (mil). The TMR takes that concept and makes it a bit simpler, using hash marks to break down mils into 0.2 subsections. Same idea, just more accurate. Throw in the broad range of magnification and multiple illumination levels, and this scope offers amazing adjustability. For a medium-range rifle designed to not only be precise but also to have the ability to quickly engage multiple targets, if necessary, an easy-to-read optic is a huge benefit. This just happens to be one of the chosen optics for a true MK12 package, as it comes to the troops from Uncle Sam. In short, the glass is matched to the rifle.
To mount the Leupold to the MK12, I chose American Defense Manufacturing's one-piece scope mount, the AD Recon. I've picked up more than a couple of ADM's mounts and have been impressed with all of them. They are light, solid, beautifully machined, and, most importantly, very precise. Once the Leupold was properly torqued into the AD Recon and mounted to the MK12, I was ready to make some noise.
Rounds Downrange
The MK12's rifle-length gas system and longer 18-inch barrel would tend to favor a heavier bullet, yet the faster 1:7 twist would allow a lighter bullet to properly stabilize and could be very handy in closer range. So to test the rifle's versatility, I grabbed a box of every match grade .223 ammo I had in my safe, including Black Hills 52-grain Match BTHP, Federal TRU 55-grain Sierra BTHP, HPR Hyper Clean 60-grain VMAX, and HPR Hyper Clean 75-grain Match BTHP.
I zeroed the MK12 at 50 yards with the Federal 55-grain BTHP. This is currently what my agency carries as a duty round, both for the SWAT and patrol rifles, and we're continuously impressed with its performance. The quality of the Leupold scope and ADM mount came in handy here, as I was only about 3 MOA low and left during my first group.
I adjusted the scope to zero and began my accuracy testing. All shots were taken from the prone position with the rifle resting on a pack, just as the MK12 would likely be hastily deployed in the field. I also shot most groups from the 100-yard line, as I felt this would likely be the maximum distance for engagements in most law enforcement scenarios. There have been longer distance shootings, but the vast majority of police engagements are much closer.
My first five-shot group was with the Black Hills 52-grain round. I was convinced from the start this round was simply too light to maintain accuracy at distance, even as close as 100 yards. I have always been a huge fan of Black Hills' match ammo (I run a ton of it through my bolt gun), so it wasn't the brand that concerned me, just the bullet weight. Three five-shot groups confirmed my suspicions, as I was only able to maintain about a 3-inch group with little consistency.
Moving up the weight class, I repeated the process with the Federal TRU, the HPR VMAX, and the HPR Match BTHP. The 60-grain VMAX is where the MK12 really became consistently accurate, holding groups of about 1 inch with about a half-inch of variance for the cold-bore shots. The 75-grain Match was the clear winner, and I was able to hold between half-inch and 1-inch groups with little noticeable difference in the cold-bore shot. To be honest, the real limitation was the clunky military-standard trigger. I'm certain a precision trigger would make a big difference in the results, even for a novice shooter, and I would hope BCM has considered offering one in the future.
With the accuracy confirmed, I decided to speed things up a bit. I dialed down the magnification on the optic to 3.5x and ran a few hasty deployment drills. Starting from the 100-yard line, I moved quickly into position at the 50-yard line and took three quick shots on a target with 3-inch numbered dots. I was able to hold 1-inch groups with ease as I snapped a three-shot string in about two seconds. I did the same from a standing and then supported kneeling position with the same tempo and kept every one of them inside the circle. Pretty impressive.
At the end of the day I had sent about 200 rounds down the MK12's throat, and it spit out every one of them with precision. The gun ran like a champ and the optic was, in my opinion, perfectly paired for the MK12's intended purpose. I'd take this gun on duty in a flash and with complete confidence. And if you're still questioning how convinced I am of BCM's quality, I've kept the MK12 and added 15 Bravo Company short-barreled rifles to my agency's SWAT team's equipment. They make great guns, and yeah, I think you should go check one out.
A.J. George is a patrol sergeant with the Scottsdale (Ariz.) Police Department who also serves as the SWAT team's crisis negotiation supervisor.