Liberty Ammunition is unveiling the first hunting round, the .308 Winchester, in its new Animal Instinct ammunition line at the 2016 SHOT Show in Las Vegas, NV, this week. The Liberty Ammunition .308 Win is the fastest at 3,500 FPS and exits a rifle with a muzzle energy of 2,700 FPE, according to the company. This lead-free copper monolithic, fragmenting hollow-point Liberty Ammunition round is designed to offer hunters and LEOs increased lethality at medium to longer ranges.
The .308 Winchester was introduced in 1952 as a sporting round to fit a standard short-action rifle. The highly accurate round quickly found favor with big game hunters and shortly thereafter was adopted by the U.S. Military for the M14 rifle. According to the company, the new Liberty Ammunition Animal Instinct .308 Win. is lighter than its competition at 100 gr. Animal Instinct .308 is designed to deliver more lethality in a flat shooting round with match grade accuracy, all in a low recoil, easy to manage package. Therefore, hunters, law enforcement officers, and military operators alike can benefit from Liberty Ammunition's Animal Instinct line.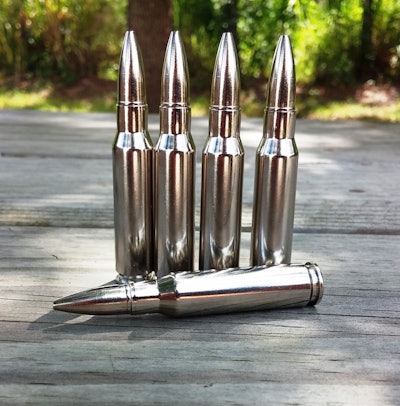 Liberty Ammunition Animal Instinct .308 Winchester Specifications:
Product Number: LA-HA-C-308-045
Description: Copper Monolithic, Fragmenting Hollow Point, Lead Free Hunting Round
Weight: 100 grain
Velocity: 3500 FPS
Kinetic Energy: >2700 FPE
Accuracy: 1 MOA @ 500 yds.
Terminal Effect: >5" W x 16" D
You can check out the entire line of high performance, lead-free Liberty Ammunition, as well as apparel products, at www.libertyammunition.com.
Liberty Ammunition manufactures ammunition for hunting, personal defense, and for law enforcement and military.