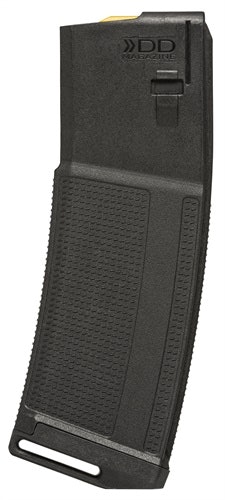 Engineer and manufacturer of firearms and accessories Daniel Defense has announced its latest accessory, the DD Magazine. This lightweight but durable magazine fits on M4, M16, and all AR-15-variant 5.56mm rifles. It holds 32 rounds of 5.56x45mm NATO or 300BLK.
Its patent-pending design is made from a carbon-fiber-reinforced polymer and weighs only 4.6 ounces unloaded. Its improved feed-lip design and enhanced anti-tilt follower allow for smooth, reliable feeding.
The DD Magazine's snag-free design and textured surfaces make gripping, inserting, and removing the magazine ergonomic, intuitive, and nearly effortless. An impact-absorbing baseplate also adds to its overall durability. Simple disassembly and reassembly makes cleaning and maintaining it quick and easy work.
The DD Magazine has an MSRP of $20 and is available from Daniel Defense's website or an authorized DD dealer. It cannot be shipped to the following US States with restrictions on high capacity magazines or any other restricted state or local municipality: California, Colorado, Hawaii, Maryland, Massachusetts, New York, New Jersey, and Washington, D.C.
For more information visit Daniel Defense.