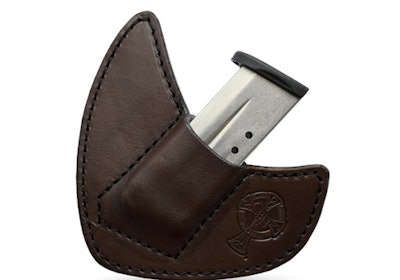 During the recent National Rifle Association Annual Meeting in Louisville, KY, CrossBreed Holsters announced the winning name of its new pocket mag carrier, the Gideon.
CrossBreed Holsters offered Facebook fans the opportunity to name the new pocket mag carrier. Frank Maschhoff Jr. submitted "Gideon" as the winning name for the mag carrier. Maschhoff not only receives recognition for naming the new CrossBreed product, he will also be the first to own the Gideon Pocket Mag Carrier. Maschhoff posted on Facebook, "I'm honored to have my entry selected. I'm glad CrossBreed liked it."
The Gideon is an ambidextrous mag carrier that fits securely into a pant or jacket pocket. The handcrafted, versatile mag carrier accommodates both single- and double-stack magazines in a variety of gun models and calibers. It is available in five color options: black, Havana brown, chocolate brown, and London Tan, as well as Horsehide Natural for an additional $5. It measures 4.875 inches wide by 5.25 inches tall.
Gideon Pocket Mag Carrier features:
Handcrafted leather
Fits front or rear pant pockets, cargo pockets and jacket pockets
Measures approximately 4.875 inches wide X 5.25 inches tall
Shaped for ambidextrous use
MSRP: $24.95
Visit CrossBreed Holsters at www.crossbreedholsters.com or on Facebook.