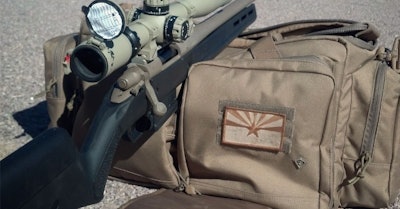 First Tactical's Recoil Range Bag was created to carry pistols and ammunition safely and securely. Designed with tough 600-denier polyester and closed foam padding to keep your reserve organized while on the go, with six external pockets and 13 internal pockets it's made to provide plenty of room for all of your firearm needs.
Stiffened padded dividers help with organization and include two pistol pockets and 10 pistol mag pockets. A cleaning pocket is also featured with this pack designed specifically for the storage of cleaning tools, as well as an oil-resistant lining.
The Range Bag accepts embroidery and features hook-and-loop areas for department patches and stickers.
The Recoil Range Bag is available now in Black and Coyote and retails for $89.99.
Headquartered in Modesto, California, First Tactical makes functional gear created for professionals. Guided by the principles of innovation and reliability, First Tactical works firsthand with Law Enforcement, Firefighters, and Emergency Medical Personnel to create durable products that meet the needs of public safety. By working directly with real world users and utilizing expertise of high-quality professionals, all of First Tactical's products are put through demanding conditions to ensure they can reliably perform. Learn more about First Tactical's clothing, Advanced Women's Fit, outerwear, accessories, and what's to come at www.FirstTactical.com.