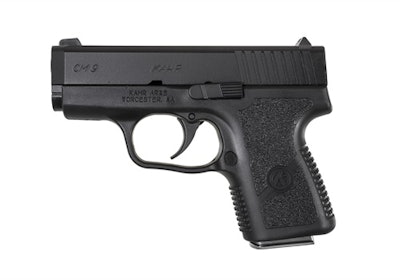 Kahr Firearms Group has introduced the latest Cerakote finish for the CM9 and the CM45. Officially called Cerakote H-190 Armor Black, the pistol has a flat black stainless steel slide with a black textured polymer grip and black appointments. The flat black finish has a chalky appearance which gives it a more utilitarian look, which appeals to many gun owners.
Both the CM9093CB and CM4543CB were developed exclusively for MGE Wholesale. Consumers can ask their favorite firearms dealer to purchase these exclusive models from MGE Wholesale.
The 9mm features a 3.1-inch barrel, black polymer frame and a stainless steel slide, coated in a matte finish in Cerakote Armor Black. The .45 ACP pistol features a 3.34-inch barrel and also has a black polymer frame and stainless steel slide in Cerakote Armor Black. The overall length on the CM9 is 5.42 inches and 5.79 inches on the CM45. The weight on the 9mm is 14 ounces and the .45 ACP is 17.3 ounces The 9mm has a 6+1 capacity and the .45 has a 5+1 capacity. Both handguns offer a trigger cocking DAO, lock breech, Browning-type recoil lug, and a passive striker block with no magazine disconnect. Both guns have drift adjustable white bar-dot combat rear sight with a pinned in polymer front sight.
The MSRP on either the CM9093CB or the CM4543CB is $487.
For more information about the Armor Black Kahr pistols, please visit www.mgewholesale.com. For more information about Kahr Arms products, visit www.kahr.com.