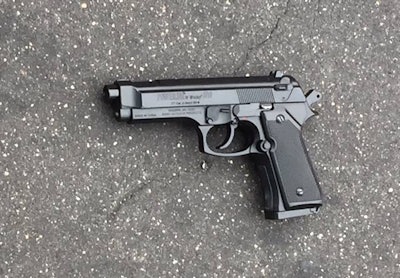 A Baltimore police officer shot a teen who was carrying a fake handgun Wednesday afternoon following a brief foot chase near Aisquith Street and East Baltimore Street, authorities said. The teen's injuries aren't considered life-threatening, reports Yahoo.
Baltimore Police Commissioner Kevin Davis said two plainclothes detectives assigned to the department's intelligence section had been driving down the street in an unmarked police car when they spotted the young person with what looked like a Beretta 92FS semi-automatic pistol and identified themselves as police officers.
"It's a replica semi-automatic pistol, and I looked at it myself today. I stood right over top of it. I put my own eyes on it. It's an absolute identical replica semi-automatic pistol," Davis said during a news conference later that day. "Those police officers had no way of knowing that it was not, in fact, an actual firearm. It looks like a firearm."
The teenager took off running, leading to a 150-plus yard chase that ended with one of the officers discharging his weapon, he said. The boy was taken to an area hospital for injuries to a "lower extremity," according to police.
Volanda Young, the boy's mother, identified her son to the Baltimore Sun as Dedric Colvin, a 14-year-old in the eighth grade, and said he left their home with a BB gun. Police said he is 13.
At this point, Davis said, he has no reason to think that the officers acted inappropriately in any way.
Davis said he cannot wrap his head around why the teen would leave his home with a replica pistol in his hand, and said that no Baltimore officer wants to shoot a 13-year-old.