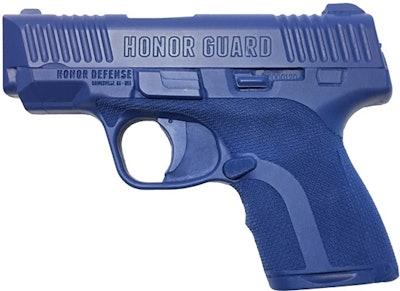 Ring's Manufacturing has introduced a new Honor Guard 9mm Sub Compact Bluegun training pistol replica. The HG9 Sub Compact training pistol is molded from solid blue polyurethane to differentiate it from a live weapon.
The training pistol weighs 22 ounces, has a 3.2-inch barrel, and is 4.6 inches high. No trigger pull or tool is needed for disassembly. The capacity is two magazines (a 7-round and an 8-round.) The Honor Guard pistol has two sizes of backstraps to customize the fit, serrations that go over the top of the slide for easier racking, and an ambidextrous slide and magazine release. The weapon comes with a two-year warranty.
Blueguns' Honor Guard 9mm Sub Compact Bluegun training pistol is a 1:1 exact replica of the original HG9 Sub Compact, allowing officers to train in safe, realistic tactical scenarios without the need to use their duty firearms. All Blueguns are 100% manufactured in the USA.
For more information, visit www.blueguns.com.