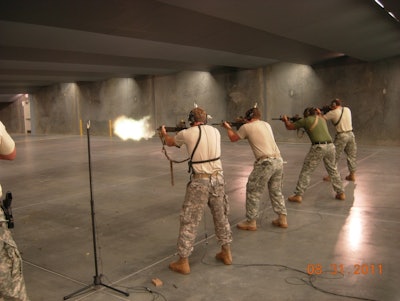 Shooting ranges nationwide, including law enforcement facilities, are being cited by health and safety officials for noise control violations. These citations have resulted in a reduction of operating hours, range shutdowns, and in some cases, fines for non-compliance of noise exposure limits.
Troy Acoustics will sponsor a program Wednesday Jan. 18 from 1:30 to 2:30 p.m. at the Shooting, Hunting, and Outdoor Trade (SHOT) Show that will teach law enforcement officers and other SHOT attendees how their agencies and companies can reduce range noise. Discussed will be OSHA and NIOSH regulations, noise solutions for ranges, and the effects of too much noise on range personnel.
The class, which is part of the Law Enforcement Education Program (LEEP), will be presented by Bill Bergiadis, a noted authority on indoor and outdoor shooting range OSHA compliance, inventor of the patented Troy System, and co-developer of the USACE shooting range test procedure:
Registration cost for the LEEP program is $25. That fee allows students to attend as many classes as they can fit into their SHOT Show schedules.
LEEP is co-sponsored by POLICE Magazine and the National Shooting Sports Foundation.
For more information visit http://shotshow.org/leep/ Contact Troy Acoustics via e-mail info@troyacoustics.com or call (800) 987-3306 Ext.400