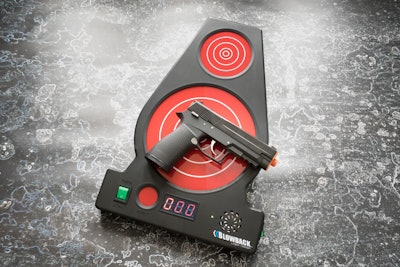 Law enforcement officers attending the Shooting Hunting and Outdoor Trade (SHOT) Show in Las Vegas in January can get hands-on training time with the Blowback Laser Trainer through the Law Enforcement Education Program (LEEP).
The class held Tuesday Jan. 23 from 1:30 to 2:30 p.m. is taught by Lou Krupkin and discusses the Blowback Laser Trainer and its benefits for law enforcement firearms instruction. The Blowback Laser Trainer is a non-firing training gun that features CO2-powered felt recoil and ejectable magazines. It has the same weight, look, and feel of a duty gun.
The company says the Blowback Laser Trainer is designed to help shooters improve accuracy without spending the time going to the range and or the money for expensive ammunition. It says using the Blowback Laser Trainer, shooters of all skill levels can improve their performance, correct shooting errors, and develop good shooting habits. The Blowback Laser Trainer can be used indoors or out and no special facilities are required.