SIG Sauer has introduced the 1911 We The People BB Pistol – its newest semi-automatic, CO2-powered airgun and first air pistol with a functional takedown lever for field stripping. Modeled after the exceptionally popular 1911 We The People full-size centerfire pistol, which is inspired by a rich, patriotic history, the BB pistol version of this uniquely American handgun features the same custom grips adorned with 50 stars (25 per side) that represent each state of the Union. A distressed finish on the stainless-steel slide and frame includes patriotic engravings, such as 13 stars atop the slide and "WE THE PEOPLE" and "1776" on the slide flats.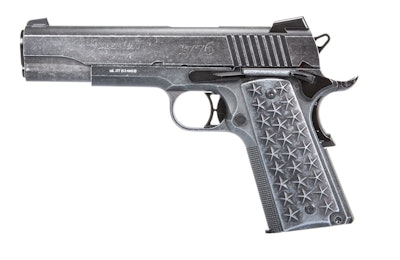 "This new 1911 We The People BB Pistol is as close to an exact replica of its centerfire counterpart as possible," said Joseph Huston, Vice President and General Manager of the SIG Sauer Airgun Division. "The weight and feel are virtually identical, and this BB pistol version features our first drop magazine in an air pistol. It is also our first model that is field strippable, for maximum authenticity."
This high-performance air pistol also features a full-metal slide and frame with realistic blowback action of the slide and a 17-round, drop magazine which holds 4.5mm steel BBs. The slide remains open after the last BB is fired. The 1911 We The People BB Pistol also fits in current 1911 holster systems and has the same weight and controls of a traditional 1911 firearm, making it ideal for training. It also has a functioning grip safety.
The 1911 We The People BB Pistol is single action only (SAO) and has the same skeletonized trigger as the centerfire model. The front and rear sights are fixed, and the 12-grain CO2 cartridge is housed in the drop magazine for quick and easy reloading. The 1911 We The People BB Pistol shoots up to 340 fps; however, velocity results may vary depending on temperature and altitude.
For more information on SIG Sauer airguns, visit https://www.sigSauer.com/airguns.