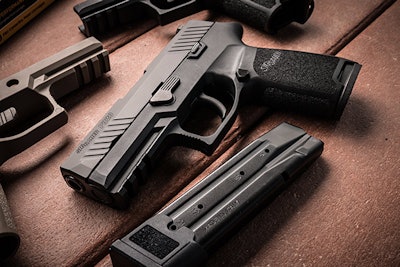 SIG Sauer Inc. announced that the Montgomery (AL) Police Department has selected the SIG Sauer P320 as their official duty firearm. The Montgomery Police Department has a complement of more than 500 sworn officers protecting the second largest city in the state, with over 200,000 citizens.
"We are honored that the Montgomery (AL) Police Department has chosen the P320 as their official duty firearm for its full complement of officers," said Tom Jankiewicz, Executive Vice President, Law Enforcement Sales, SIG Sauer Inc. "The P320's unique modular design and serialized trigger-group gives the men and women of the Montgomery Police Department the ability to select frame and grip size for their official duty pistol according to personal preference. This is really an ideal feature for a large police force like Montgomery."
The P320 is a modular, striker-fired pistol available in full-size, carry, compact, and subcompact sizing. The serialized trigger group makes the P320 adaptable to multiple caliber, size, and grip options. The P320 is available in 9mm, .357SIG, 40S&W, and .45ACP, with a choice of contrast, or SIGLITE Night Sights. SIG Sauer says the intuitive 3-point takedown requires no trigger pull for disassembly, and safety features include a striker safety, disconnect safety, and optional manual safety.
"SIG Sauer's commitment to the law enforcement community is to provide them with superior firearms to protect and serve their communities—and the P320 exemplifies this commitment. We look forward to developing our partnership with the Montgomery Police Department and supporting their mission—to safeguard the life and property, preserve the peace, prevent and detect crime, enforce the law, and protect the rights of all citizens," concluded Jankiewicz.
SIG Sauer will deliver P320 pistols to replace their previously issued Glock pistols.
For more information about the company and product line, visit sigsauer.com.