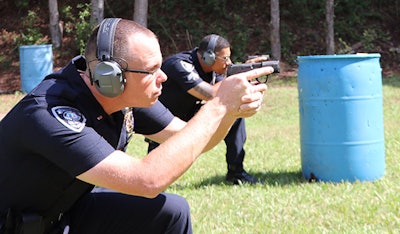 SIG Sauer Inc. announced that the Sumter (SC) Police Department has adopted both the SIG Sauer P320, and the P365 pistols, chambered in 9mm, as their official duty pistols.
The Sumter Police Department is a full-service law enforcement agency comprised of seven divisions with 120 sworn officers protecting over 40,000 citizens.
"The decision for us to transition from our [other] pistols to a complete SIG Sauer system was based on quality, performance, and safety. In testing we put the P320 and the P365 through the paces and, quite impressively, they both performed beyond expectations throughout our rugged testing requirements," said Captain Michael Evans, Support Services, Sumter Police Department.
"Additionally, the modularity of the P320 allows our officers to choose a grip based on comfort without the addition of bulky backstraps, and we are really seeing the benefits of this feature in higher qualifying scores," said Evans. "As for our detectives, the P365 is the perfect pistol because of the small size and high-capacity which makes it easy to conceal without sacrificing rounds. The P365 will also be placed into service as our agency issued backup firearm to replace the current [pistol]."
The SIG Sauer P320 is a modular, striker-fired pistol available in full-size, carry, compact, and subcompact sizing. The serialized trigger group makes the P320 adaptable to multiple caliber, size, and grip options. The P320 is available in 9mm, .357SIG, 40S&W, and .45ACP, with a choice of contrast or SIGLITE Night Sights. SIG says the intuitive 3-point takedown requires no trigger pull for disassembly, and safety features include a striker safety, disconnect safety, and optional manual safety.
The SIG Sauer P365 is an everyday, concealed carry pistol. The company says this high-capacity micro-compact pistol is smaller and lighter than other pistols in its class. It features a high-capacity, patented modified double-stack magazine for a 10+1 full-size capacity, with 12-round factory made magazines available for 13-round capacity.
"The Sumter Police Department is our first agency to simultaneously adopt both the P320 and the P365 pistols as their official duty firearms and we could not be more excited about it," added Tom Jankiewicz, Executive Vice President, law Enforcement Sales, SIG Sauer Inc. "The P320 features unprecedented modularity and safety, and the P365 truly offers the ultimate in concealment combined with a full-size carry capacity. The features of both of these pistols is very desirable to law enforcement agencies, and we could not be more pleased to have them recognized by the men and women of the Sumter Police Department in their choice to transition to SIG Sauer."
The Sumter Police Department will replace their current issue pistols with the SIG Sauer P320 and P365 pistols. Local distributor Lawmen's Distribution LLC in Columbia, SC, will provide product locally.
For more information about the company and product line, visit sigsauer.com.