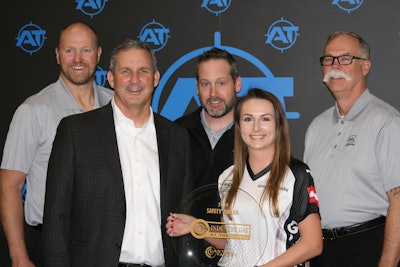 Glock received the Action Target safety award at the 2019 SHOT Show Industry Day at the Range event held on Jan. 21 at the Boulder Rifle and Pistol Range in Boulder City, NE.
The Action Target Safety Award was created to acknowledge the Industry Day at the Range exhibitor that fostered the highest level of firearms safety during the shooting event. Safety auditors judged each of the shooting exhibitors. The score was determined by basic safety criteria such as providing hearing and eye protection, control of ammo, and safe handling of firearms on the firing line. The score card also gave points for higher levels of safety such as posted rules, first-aid kit at shooting station, shooting coach at station, etc. More than 90 Industry Day exhibitors were judged on their firearms safety practices by safety auditors.
"We have supported Industry Day at the Range for many years, and we're excited to receive this award," says Ed Fitzgerald, special projects manager for Glock. "Safety is our focus and we always ask others how to do even better," he says.
Action Target has been the target sponsor for Industry Day event for 17 years.
"Our top priority when developing and designing our targets and ranges is safety. We congratulate Glock and the steps they took at Industry Day to promote firearm safety." says Mike Birch, president and CEO of Action Target.
Action Target Inc. is a privately owned business headquartered in Provo, UT. As a world leader in modern shooting range technology with more than 4,000 products and 40 patents for the systems it designs and manufacturers, Action Target has installed thousands of shooting ranges across the United States and in 25 other countries. Action Target also designs systems and conducts firearms training for law enforcement and various military divisions.
For more information on Action Target, visit www.ActionTarget.com.