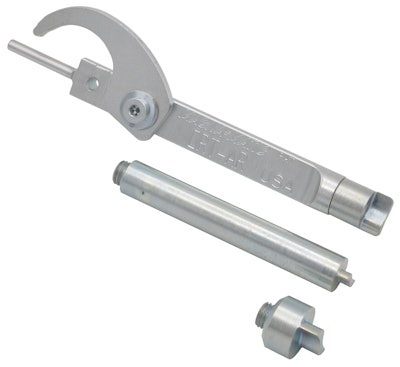 The CRT-AR is a comprehensive carbon removal tool for both the AR-15 and AR-10. Magna-Matic Defense says with its multiple tips it can clean the bolt, bolt carrier, bolt carrier rear, and firing pin of both rifle platforms.
The company says its engineered "dead-stop" reamer design fits into the bolt carrier front and rear to remove the carbon from deep dead-end holes without cutting metal. The adjustable arm of the CRT-AR is designed to function like a small hand-held lathe to clean any bolt tail radius. According to Magna-Matic, this distinctive design which can accommodate the wide range of different bolt tail radii sets the CRT-AR far apart from other companies' form tools.
To increase the functionality of the CRT-AR the company has added scraper edges to clean the carbon off of the firing pin face. The hole that sits just behind the arm is where you drop the firing pin into. The face of the firing pin will rest on two small scraper edges. Simply rotate the firing pin with light pressure to remove the carbon build-up.
For more information about Magna-Matic Defense, visit www.magna-matic-defense.com.