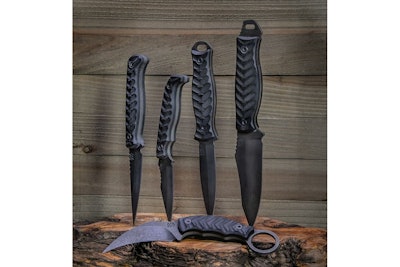 Blackhawk's latest product to arrive on the market is a line of five blades designed by custom knifemaker Andrew Arrabito. A former Navy SEAL, Arrabito is perhaps best known as the founder of Half Face Blades.
The new line of Blackhawk + Andrew Arrabito blades consists of a Combat Filet, EDC, Field Knife, Karambit, and Combat Dagger with very limited quantities. Only 10 per style are available for sale during the initial launch. Customers who wish to purchase one of these limited-edition blades can do so directly through www.blackhawk.com.
The blades are made of CPM (Crucible Particle Metallurgy) 154CM steel with a Rockwell steel hardness of 59-60 HRC. Each blade varies in length, but they all feature a stone-washed finish with skeletonized black G10 textured grip and full tang construction. One side of the blade is etched with the Blackhawk trident logo, while the other is etched with Andrew Arrabito's name.
Included with each knife is a friction-fit sheath.
For additional details, and to purchase one of these Blackhawk + Andrew Arrabito knives, visit www.blackhawk.com.