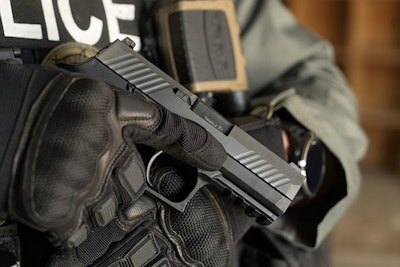 SIG Sauer Inc. announced that the City of Milwaukee Police Department is transitioning to the SIG Sauer P320 9mm pistol as its official duty firearm. The Milwaukee (WI) Police Department is a municipal police force comprised of seven districts with approximately 1,800 sworn officers.
"We chose the SIG Sauer P320 as the official duty firearm for the men and women of the Milwaukee Police Department based on the pistol's superior performance, accuracy, and dependability throughout our rigorous testing process," said Chief Alfonso Morales, Milwaukee Police Department. "During this transition we are finding that our officers appreciate the ability to choose their grip size based on the modularity of the P320, and we are seeing the positive effects of this comfort in higher qualifying scores overall. Our transition to the SIG Sauer P320 has been seamless, and we couldn't be more pleased with our decision to make it the official duty pistol of the Milwaukee Police Department."
The P320 is a modular, striker-fired pistol available in full-size, carry, compact, and subcompact sizing. The serialized trigger group makes the P320 adaptable to multiple caliber, size, and grip options. The P320 is available in 9mm, .357SIG, 40S&W, and .45ACP, with a choice of contrast or SIGLITE Night Sights. The intuitive 3-point takedown requires no trigger pull for disassembly, and safety features include a striker safety, disconnect safety, and optional manual safety.
"SIG Sauer is honored to earn the trust of the men and women of the Milwaukee Police Department through their selection of the SIG Sauer P320 Pistol as their official duty pistol," added Tom Jankiewicz, Executive Vice President, Law Enforcement Sales, SIG Sauer Inc. "The unprecedented modularity of the P320 will serve this large department, with a diverse group of officers, well into the future, and we look forward to developing a long partnership with the Milwaukee Police Department."
The SIG Sauer P320 pistols for the Milwaukee Police Department are being distributed through Streicher's, Milwaukee, WI.
For more information about the company and product line, visit sigsauer.com.